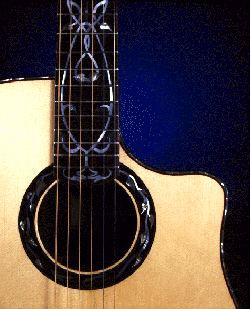 Robert Girdis began his studies in guitar construction in 1978 at the Northwest School of Instrument Design in Seattle. After his first year of an intensive studies apprenticeship, Girdis stayed on a second year as a teaching assistant. In the spring of 1981, he established his own workshop on Guemes Island, Washington, sharing a large woodshop with a boatbuilder. On Guemes Island, Girdis was offered glimpses into the studios and work of several talented artists and craftsmen, and was inspired to seek part time work with a few of them to learn their ways.
After a short time at work in an Anacortes boatyard, in collaboration with a local wildlife artist who was having a duck hunting boat built at the yard, he found himself assigned to making 50 realistically carved cedar duck decoys. This was followed with a stint as assistant to Guemes Island's artist and sculptor Phillip McCracken. He worked on several sculptures in progress in wood, stone, and bronze. At his own shop, Girdis began work on his first commissioned guitars and dulcimers, as well as doing instrument repair work. Dulcimer construction offered an opportunity to experiment with many species of exotic woods, and a chance to work with several different designs. Girdis began to focus his efforts on his real love, the acoustic guitar, building classical, flamenco, and several steel string models.

Commissions for steel string guitars brought further focus to his work, and he hunkered down to fill his orders. Frets Magazine featured photos of his work in articles spotlighting the artistic side of the craft. BIG sound and careful attention to detail, combined with a willingness to try new ideas, an understanding of the nuances of design and construction that can tailor a guitar towards specific styles of playing and to the individual, has brought Girdis a long list of ecstatic customers ordering custom guitars.